Established in 2020, Radiant Beer Co. is a new, bright idea that has been years in the making. We are here to celebrate a love of the incredible, to build an experience worthy of an impassioned audience, and to lead a culture focused on openness and connection.
Radiant Beer Co. is owned and operated by an amalgamation of craft beer lovers and industry veterans, with decades of combined experience.
Heading our daily operations are President Jonas Nemura, Director of Brewing Andrew Bell, and Director of Marketing Cambria Griffith.
Having launched brands and driven growth together while working at Placentia's The Bruery, and at other leading breweries in California, we are dedicated to creating high quality products and experiences worthy of following.
______________________________________________________________
Andrew Bell, Director of Brewing
Andrew took an interest in brewing before he was legally old enough to enjoy the fruits of his labor. While on track to pursue investment banking, the financial crisis hit, and so the self-taught homebrewer shifted gears and began entering pro-am competitions. He got a taste of his first win, which awarded him the opportunity to brew with the Bison Brewing team. He began his professional beer career at The Bruery, working in packaging, brewing, and cellar roles. His position shifted in 2014 to Experimental Brewer, and since then, he has created many of the recipes The Bruery fans have come to know and love, before leaving the company in late 2020 as their Innovation Manager.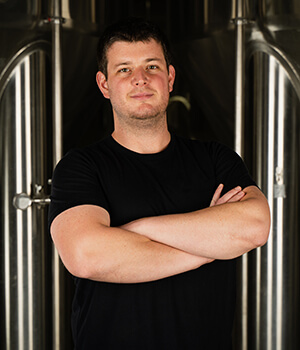 Jonas Nemura, President
After studying industrial and labor relations at Cornell University and a brief stint in the legal world, Jonas Nemura found his passion in the world of craft beer. Starting through self-study, homebrewing and sampling at New York City's great beer bars, his first commercial exposure was helping out at a real ale pub in New Zealand. He joined The Bruery out of Orange County, CA, in its infancy, helping to build it into an internationally recognized pioneer in specialty craft beer during his nearly 10-year tenure. He then took a more local focus while growing Chapman Crafted Beer throughout California and the West Coast. When a brewing facility in his neighborhood became available, Jonas jumped at the chance to reunite some former colleagues to create a vision of their own.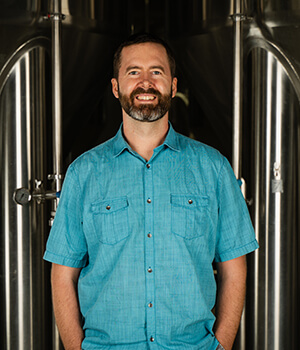 Cambria Griffith, Director of Marketing
Cambria specializes in bringing ideas to life. Her professional career began in web and advertising in the early 2000s, working for boutique design companies and Warner Bros. New Media. She founded her own Los Angeles event and lifestyle website, which garnered a strong following and made her seriously consider craft beer as a career. She took the leap, and has since been a driving force behind Golden Road Brewing, LA Beer Week, The Bruery & Bruery Terreux, Offshoot Beer Co., and Figueroa Mountain Brewing. She has been a guest speaker on the topics of branding and digital media at the California Craft Brewers Conference in San Diego and Sacramento. When she isn't making things happen at Radiant Beer Co., she runs her own online shop and creative services based out of Long Beach, CA, with her tiny assistant, Donut, a Maltese-Biewer terrier.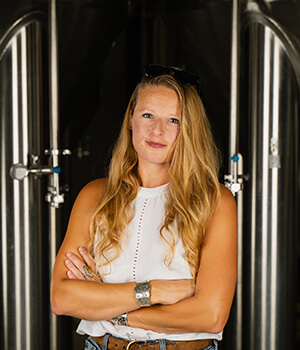 ______________________________________________________________
Aaron Aldorisio, Sales
Aaron began drinking fancy beer in the '90s while he was a student in Chicago. A local punk rock bar happened to sell esoteric imports and blew his mind wide open, leading him to hoppy delights that graced the midwest. After working in music, with a brief sidestep into advertising, he gave craft beer a try and has since been at it for close to a decade. Aaron brought his radiance to Radiant Beer Co. after selling Uinta, Avery, and The Bruery & Offshoot. When he's not bringing liquid joy to you, Aaron is a long-time record collector, part-time DJ, casual cinephile, reborn raver, casserole maker, husband, step-father to a college sophomore, and proud dad of two senior pugs.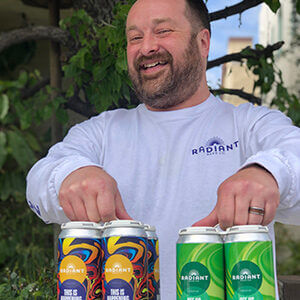 Drop your email here:
Be amongst the first to know about new awesomeness!