What's On Tap at Radiant Beer Co.
We look forward to your visit! Our taplist is updated regularly, though offerings can change quickly and without notice. Please call us before visiting if you're looking for something specific: (714) 661-5790
We offer crowlers of some selections, but cannot crowler nitro beers, slushies, or soft serves. Check our SHOP page for beers available in cans to go.
🍦🍧  Learn more about our frozen beer slushies & soft serve beer.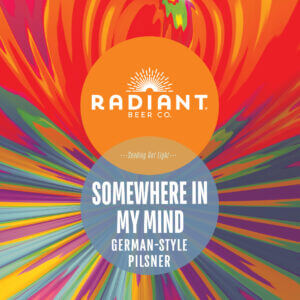 Somewhere In My Mind
German-style Pils
SOMEWHERE IN MY MIND exists the perfect pilsner. Perhaps there's a translucent, sun-kissed body with a tight, white head atop. The aromas could be delicately hoppy with the air of alpine flowers and freshly baked bread. It's possible a German-style flair reverberates throughout with Noble-hop herbaceousness and a resulting bright citrus flavor underlying the subtle, sparkling black tea. A perfectly effervescent 4.4% German-style Pils exists... somewhere in my mind...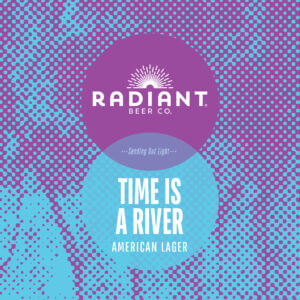 Time is a River
American Lager
As we float along the waters of this wide world of beer, one thing becomes clear: TIME IS A RIVER. And while history may not repeat itself, beer releases sometimes do, as is the case with our take on the oft-innovated American Lager. This malt bill combines both North American and German Pilsner malts, with some rice to crisp it up. Then, we threw in some Saphir hops for good measure and just a touch of hoppy kick. The result is a completely clear, pale straw hue with brisk carbonation, notes of cracker and lemon peel, and a delightfully grassy finish. Let's see where this river carries us...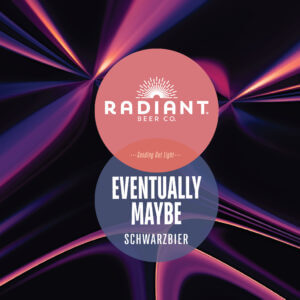 Eventually Maybe
Schwarzbier
Will we ever make a true-to-style Schwarzbier? EVENTUALLY MAYBE. After flirting with a handful of dark lagers, Radiant has finally tackled its first Schwarz. This classic German style is a bit of a conundrum; the look of a darker ale with the hint of a lighter lager. Less of a light porter and more of a black pils, this is a lovingly-crafted, cola-hued, tan foam-laden winter beer dream. Brimming with bready notes of pumpernickel and chocolate wafer, it's balanced with the floral and spice characteristic of Noble hops. Wait no longer; this 4.8% dry and hoppy homage is finally ready to head home.
FIRST EVER SCHWARZBIER!
4.8%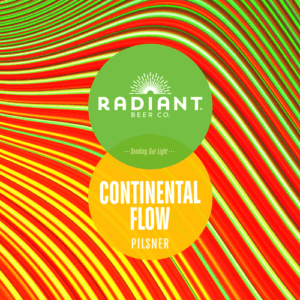 Continental Flow
Pilsner
Bright and spicy floral noble hops evoke fresh mountain air with tinges of bergamot, citrus, fresh cut grass, and wildflowers. This classic, European-style pilsner is so drinkable and crisp, and has well balanced bitterness in contrast with its notes of baked bread from the use of pils malt.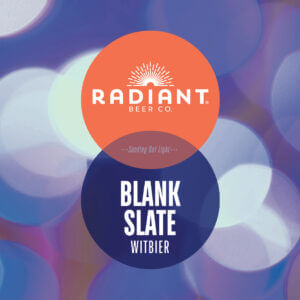 Blank Slate
Witbier
Let's start over with a BLANK SLATE. In fact, let's do a refresh every year for this take on a classic Witbier with a Radiant twist. Let's elevate that tried-and-true orange peel and coriander combo with a few simple ingredients that work in synergy for this smooth bodied, extremely food-friendly brew. For 2023, we decided to take inspiration from gin botanicals like juniper, adding bright citrus & delicate spice notes to the wheaty aromas of freshly-baked bread in an effervescent and refreshing 5% package. We hope you enjoy our newest take on an old favorite.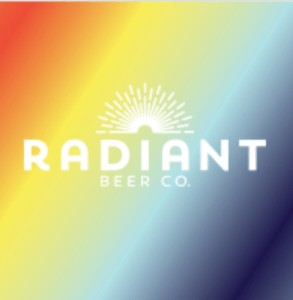 Dreams Never End
Smoothie-style Sour Ale
A never-ending chase for that taste of nostalgia. Yearning evermore for a way to emulate the flavor of childhood in our beverage of choice. Will the DREAMS NEVER END? Well, perhaps they may today, with our newest foray into the smoothie sour game in this dreamsicle inspired release. Influenced by the ice cream bar of yore, this sour has heaps of orange and vanilla, with banana and fluffy marshmallow added for ultimate creaminess, in a faithful recreation of our sweetest memories.
AVAILABLE IN CROWLERS
6.5%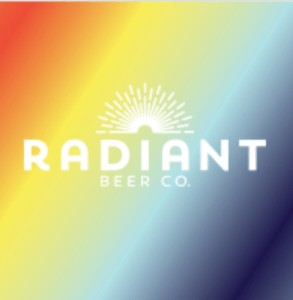 Love All Around Us
Cherry Pie-inspired Sour
It may still be winter, but we're filled with warmth as we see LOVE ALL AROUND US. This hefty Cherry Pie-inspired Sour Ale features a blend of Montmorency and Balaton Tart Cherries, Graham Cracker, and Vanilla, striking the perfect balance between sweet and tart. We hope you love it as much as we do!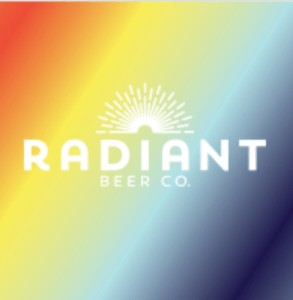 Supersonic Philharmonic
Hard Seltzer
Seltzer with gin botanicals, lime zest and lime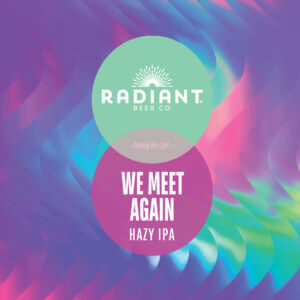 We Meet Again
Hazy IPA
Ahhh, the definitive Hazy IPA... WE MEET AGAIN. How you make us marvel with your murky yellow tone. How you croon with a clamarous cadence of citrus and tropical fruit. You've bolstered a bouquet of aromatic hops that blast beautiful buffets of peach rings, tangerine, lychee and lime zest. You manufactured a mouthfeel of marvelous magnificence. Oh, and also you're delicious.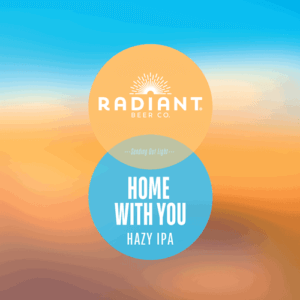 Home With You
Hazy IPA
As the days get shorter, the nights get cooler and we gather with friends & family, this fresh & fruity hazy will bring cheer to any table. Featuring a lush combination of Citra, Mosaic, Simcoe, Amarillo & Cashmere hops, this juice bomb welcomes you with notes of mango, tangerine, peach and a hint of strawberry.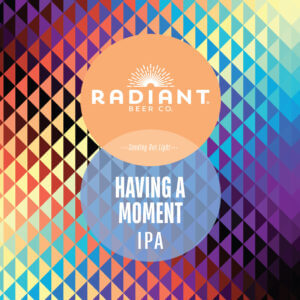 Having A Moment
IPA
It's safe to say that after a recent deluge of hazies across Southern California, it's seems that potentially maybe somehow possibly... classic IPAs are back to HAVING A MOMENT. This 7.1% return to form is hopped with Mosaic, Nelson, and Simcoe to bring us back to basics. Clear yellow, with a white head, with resinous aromas and background scents of white grape and kumquat. A taste of grapefruit with green papaya and a hint of dankness, there's a firm bitterness and clean dry finish that begs for another sip, moment after moment.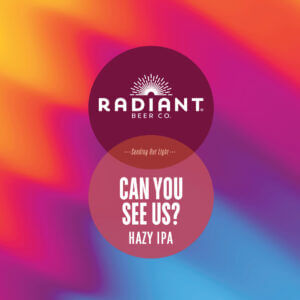 Can You See Us?
Hazy IPA
Peer into the endless hazy seas for the freshest can speeding through the surf: CAN YOU SEE US? We are floating out a pillowy juicebomb that teases tropical tangents like guava, mango, gooseberry, and white grapefruit. This 7.2% Hazy IPA busts through the break with luscious flavors of tangerine, juicy melon, and wild Thai banana with a low bitterness to drift your taste buds back to shore.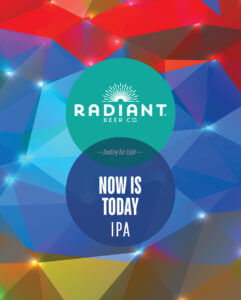 Now Is Today
IPA
What happens as the lines progressively blur between what standard West Coast and New England IPAs are expected to deliver? You get something like NOW IS TODAY, our latest IPA. Our exploration into the new evolution of West Coast Hazies, there is an unfiltered appearance that maintains a dry body and the common pine and grapefruit aromas melded with notes of apricots, white peach, and melon in the finish. It's not a hazy, and it's not a clear beer - this is another foray into the ever-evolving Modern IPA.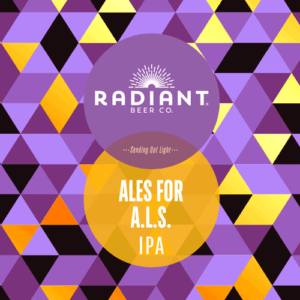 Ales for A.L.S.
IPA
In this season of thanks, we believe it's important to give back where possible. So when we were asked to participate in the Ales for ALS program, we were happy to join this worthy cause. Ales for A.L.S. is a special brew crafted with a unique hop blend, made in support of the ALS Therapy Development Institute (ALS TDI). The 2022 blend features HBC630, HBC586, Citra, Loral, Ahtanum & Ekuanot hops from our friends at Loftus Ranches & Yakima Chief Hops, creating a fantastic melding of modern & classic IPA character. Bright citrusy tangerine, grapefruit zest & melon notes mingle with a light resiny dankness and a solid balancing bitterness.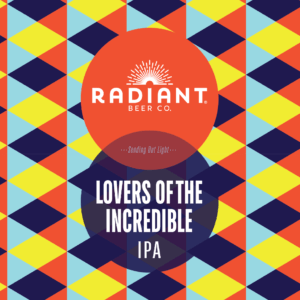 Lovers of the Incredible
IPA
We are lovers of radiance. Lovers of fine ingredients. Lovers of everything craft. And as the vinyl gracing the wall of our taproom would propose... LOVERS OF THE INCREDIBLE. And thus, we revisit this IPA that we lovingly brewed with the incredible classic West Coast hops Simcoe, Citra, and Amarillo. What follows is a beautifully clear, golden hue that exudes aromas of grapefruit, strawberry, and pine and slightly bitter flavors of tangerine and dank resin.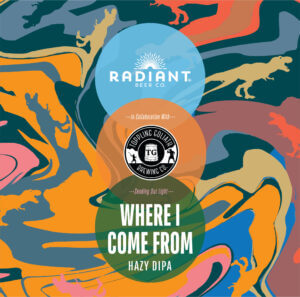 Where I Come From
Hazy DIPA
After meeting under unusual circumstances, the giants from Decorah and the luminaries of Anaheim found common ground in mutual love for each other's beer. Iowa's Toppling Goliath joined forces with Radiant Beer Co. this winter for the first of several collaborations in each brewery's respective state. This first brew is a Hazy DIPA with a massive dose of Mosaic, Motueka, Strata, and Citra hops. A light base of North American Pilsner malt and some oats, coupled with TG's water profile creates a beautifully balanced platform to let those marvelous hops shine through with a medley of tropical, citrus, and stone fruit aromas and flavors. Where I Come From, we call this delicious.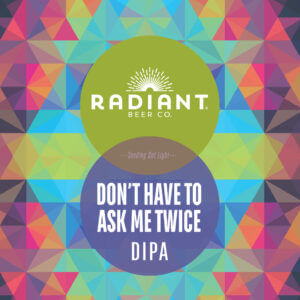 Don't Have To Ask Me Twice
DIPA
Can you brew a DIPA for the cold, rainy season that is January in SoCal? DON'T HAVE TO ASK ME TWICE. Welcome to DIPA season our newest Double IPA, a 9.7% clear beer that doesn't skimp on flavor. Citrus-forward and zesty with a medium bitterness and balanced hop-character. Transport yourself with tropical flavors of melon and green papaya with a boozy warmth and slight undertones of dank pine and white grapefruit.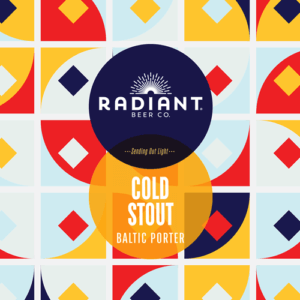 Cold Stout
Baltic Porter
Baby it's Cold Stoutside... so why not warm up with with this historical style? A cold-fermented cousin of your traditional porter, COLD STOUT clocks at 8.5% with roast-forward notes of coffee, baking chocolate, and rye pumpernickel bread. A low bitterness and rich warmth make this the perfect sipper as we slip into the winter.
FIRST EVER CANNED PORTER!
8.5%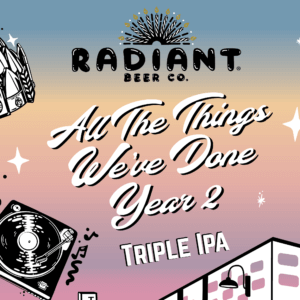 All The Things We've Done
Triple IPA
As we head into our third journey around the sun, it's hard not to think about ALL THE THINGS WE'VE DONE (year 2). Brewed to celebrate our second anniversary, our staff collaborated to produce this love letter to Radiant. A Triple IPA clocking in at 11.3%, this is a sneaky beer with an array of flavors as vast as our experiences over the last twelve months. Big citrus and tropical fruit aromatics, weaving through tangerine, grapefruit, mango, and apricot give way to bold notes of cantaloupe, rainbow sherbet and pineapple. Perfectly balanced with low bitterness and a dry profile that complements the well-hidden alcohol. The perfect second anniversary beer.
ANNIVERSARY BEER RELEASE!
11.3%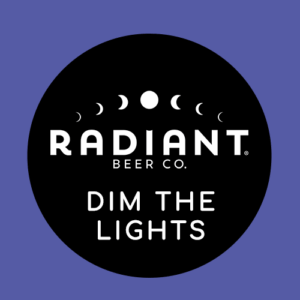 Dim the Lights
Imperial Stout aged in Bourbon and Rye Whiskey Barrels with cacao nibs, cinnamon and chilies
Cozy up to warming flavors created by the addition of carefully selected ingredients layered onto a decadent, perfectly aged imperial stout. This rich, smooth liquid spent 23 months in Old Forester 13 year Bourbon barrels & Thomas H. Handy Sazerac Rye whiskey barrels to reach its ideal flavor. The addition of Uganda Kisinga Organic 2022 Microlot cacao nibs, Ceylon cinnamon, and cayenne pepper turn it into a Mexican chocolate-inspired treat, perfect for sipping and sharing through the colder seasons.
FIRST BOTTLED BBA BEER!
13.9%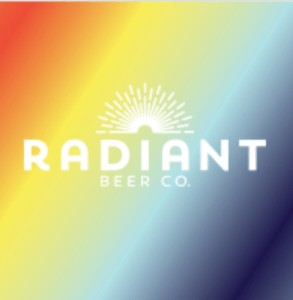 Mocha Everyday
BA Mocha Stout with Mostra Coffee, Nibs and Vanilla
We took Every Day Is Chocolate Day and decided it deserved a careful coffee treatment, hence: MOCHA EVERYDAY. The base stout that boasted flavors of cacoa nibs and vanilla now finds itself adjuncted delicately with Mostra Coffee, and a beautiful chocolate-espresso stout emerges.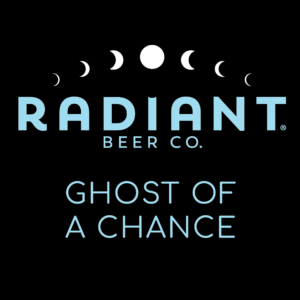 Ghost of a Chance
Barleywine Ale aged in a bourbon barrel with vanilla beans
Is it possible to make the perfect barrel-aged Barleywine? Well, there's at least a GHOST OF A CHANCE. This 15.4% Vanilla Barleywine spent a scary impressive amount of time in bourbon barrels, clocking 22 months in a Weller 7yr bourbon barrel nestled in between Tahitian and Comoros vanilla beans. The resulting beer is so smooth it's spooky; sweet swirls of mellow bourbon sit adjacent to multiple waves of pleasantly elegant vanilla. Wisps of caramel, rich toffee, dark fruit and creamy coconut float amongst a medium carbonation that loans itself as the lingering stand between your palate and the last few sips of this bottle before it... vanishes.