Welcome to Radiant Beer Co. Online Shopping
It's easy to get your paws on fresh beer for you or someone you love, whether you're a SoCal local or seeking beermail. Check the full details below about our shopping options.
Ship Beer Anywhere in California
Build your own custom mixed case and have it shipped to you anywhere in California. Choose the 4-packs of your choice to fill either a full case (six 4-packs / 24 cans) for $25 shipping, or a half case (three 4-packs / 12 cans) for $15 shipping.
Orders $200+ include shipping cost.  Stock your beer fridge today.
Order Local Beer & Merch Delivery or Pickup
If you're local to Anaheim, our online beer & merch shop accepts orders Wednesdays – Sundays from 9 AM – 7 PM and our delivery trucks depart at 4 PM. We can provide a fully contactless experience, just let us know your preference in your order notes.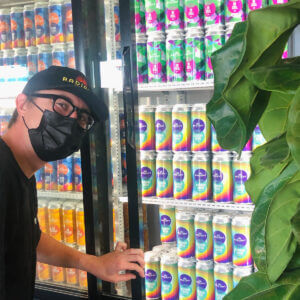 Visit Us & DriveThru
Come to our Tasting Room to enjoy beer onsite, or to go. Check our Location page for full details about our onsite experience, including our current taplist, food truck schedule, hours of operation, and COVID safety protocols.
Local Retailers
Yes, you might find Radiant Beer on draft and in cans at select retail establishments. We self-distribute a very small amount of our beer when possible, so if you don't see our beer at your favorite craft beer spot, be sure to ask for us by name.
Know a spot that needs our beer? Please Contact Us.
Please note:
An adult (21+) with valid ID must sign for the package. Legally, alcohol cannot be left at your door.

Our website accepts orders 24/7 for CA shipping of beer in half or full case formats. We fulfill these orders Monday – Thursday, as our courier does not ship on weekends and we want you to ensure you enjoy our beer fresh.

We ship through GLS which provides one-day shipping, and will email you tracking information upon order processing.Check your email for your GLS tracking number, so you know when to expect it. Shipments usually take 24-48 hours once handed over to GLS.

Once the beer has shipped, it's out of our hands. We do not take responsibility for delays by GLS, or if an adult is not available to sign at the time of delivery.

We do not currently ship merchandise, as we are only equipped with packaging fit for beer shipments. We are working on it!

Sorry, but we aren't able to ship our beer with cold packaging at this time. We hope to be able to offer cold shipping in the future.

At this time, we cannot legally ship beer out of state. Due to the myriad laws & regulations surrounding that, this is for CA shipping only. We are looking into some additional states and will update when we can. Talk to your state legislators if you'd like to see this option in the future, as there are still only a handful of states where an out-of-state brewer can ship directly to an end-consumer!

Our minimum shipping cost is $15. Full cases cost $25 to ship, half-cases or individual 4-packs cost $15 to ship, and orders over $200 include shipping. CRV is included. These are our current shipping format options, though we look forward to providing more options in the future.

If you have questions regarding your order please respond to your confirmation email. We are just getting started with this new shipping experience, so details are subject to change as we continually improve our process.

Our online shop for local orders of beer & merch accepts orders 24/7, with fulfillment of local delivery and pick up during our regular business hours. Local delivery trucks depart Wednesday – Sunday at 4 PM. Last call to order online for same-day delivery is 3:30 PM. Check our VISIT page for business hours.

Crowlers are available for select draft releases. Please note that in order to uphold the high quality standards we maintain for our beer, crowler orders must be picked up no more than 36 hours from placement of order. Crowlers that are not picked up within this timeframe will result in a cancelled order without refund. We do not currently ship crowlers.