What's On Tap at Radiant Beer Co.
We look forward to your visit! Our taplist is updated regularly, though offerings can change quickly and without notice. Please call us before visiting if you're looking for something specific: (714) 661-5790
We offer crowlers of some selections, but cannot crowler nitro beers, slushies, or soft serves. Check our SHOP page for beers available in cans to go.
🍦🍧  Learn more about our frozen beer slushies & soft serve beer.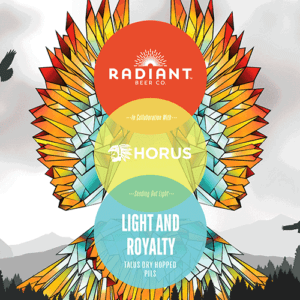 Light and Royalty
Talus Dry Hopped Pilsner
A crispy and bright pils made with Talus hops is the ideal quencher after a day of barrel blending. No barrels here, just hoppy refreshment made in collaboration with a fellow barrel aged beer lover. Andrew, Ryan, and our friend Kyle from Horus came together to let this project take flight, and our brew team really made it soar. The complex aromatics of this easy drinking pilsner flaunts notes of starfruit, white wine, lychee, and Thai basil, while the hop terpenes balance nicely with sweet, fresh baked bready malt character.
Second That Emotion
Hazy Pale Ale
If you feel like enjoying an absolute fruit bomb of flavor and a total gold medal winner, we Second that Emotion. A punchbowl of insanely tropical aromatics like guava, passion fruit, pineapple, gummy candy, strawberry, and overripe stone fruit explode into flavors of guava nectar, lychee, and citrus.
NEW! GOLD MEDAL WINNER!
5.4%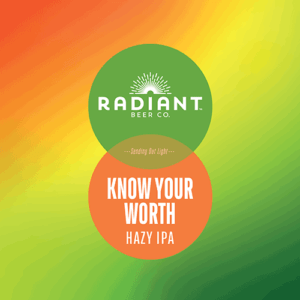 Know Your Worth
Hazy IPA
This golden yellow haze is heavy with complex hop aromas of blueberry, melon, apricot, juicyfruit, and a touch of white pepper and dankness. Citrus rind, papaya, tangelo zest, and tropical juiciness round out its flavor in this worthy drinking experience.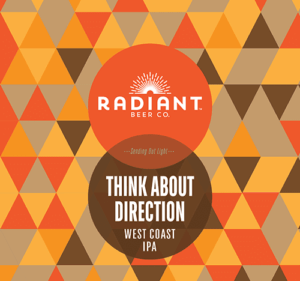 Think About Direction
West Coast IPA
A citrus forward IPA with notes of pine, tangerine zest, and dried apricot. This west coast IPA finishes with pleasant bitterness & dankness, with notes of white grapefruit, underripe pineapple, and pithy citrus.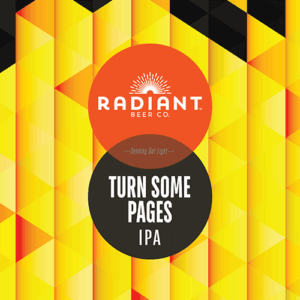 Turn Some Pages
India Pale Ale
It's time to Turn Some Pageswith a light in color, full of flavor, modern IPA. Pineapple-heavy aromatics, with cantaloupe, ripe peach, Gewurztraminer grape, and subtle dankess prepare your palate for flavors of melon, green papaya, Calamsi lime, and tropical fruit with very low bitterness and a dry finish.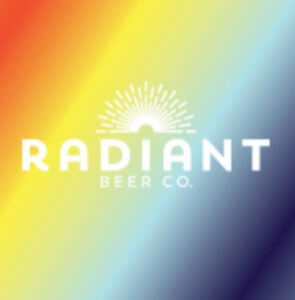 Abominable Snowconut
Pastry Stout
Inspired by a chocolate & toasted coconut sundae, this special pastry stout is loaded to the brim with toasted coconut, maple syrup, Tanzanian cacao nibs, and Madagascar vanilla! We were taken back to childhood treats and wintery goodies when we brewed up this decadent, slightly nostalgic and delicious creation and couldn't imagine a better way to kick off the holiday season.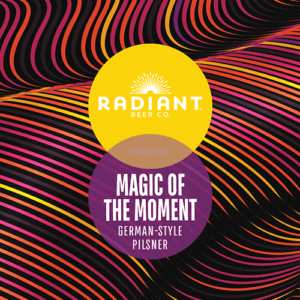 Magic of the Moment
German Style Pilsner
Savor the Magic of the Moment with this crystal clear, noble hopped traditional German-style lager. Hallertau Mittlefruh and Tettnang hops give generous aromatics of floral, spice, and gentle bergamot citrus tea, as pilsner malt offers a backdrop of doughy, baked bread notes. The moment is all finished off with bright, crushable, high carbonation and balanced bitterness against magically malty sweetness.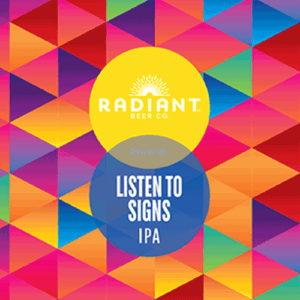 Listen To Signs
Modern India Pale Ale
We hear that clear beer is dear to all. That's why we delight in bringing you a clear, bright, flavorful, modern IPA that's a treat to all your senses. Use of Mosaic, Strata, Cashmere, and Idaho 7 hops conjures intense fruit notes in harmony with white flower and slight dankness. Awaken your taste receptors with dominant aromas of starfruit, lychee, tangerine, and Asian pear, and potent flavors of white grapefruit, blueberry, and jasmine.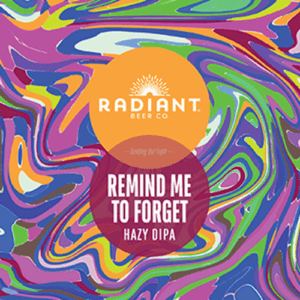 Remind Me To Forget
Hazy DIPA
A hazy double heavy on the stonefruit character, you'd be remiss to forget remembering to stop by and try this unforgettable release. This one is a deep orangey-gold hazy dripping with ripe mango, pineapple, and sherbet, hitting hard with big notes of peach skin and stone fruit nectar. All these sweet tones are balanced well with alcohol presence and hop bitterness from Nelson, Citra, and Cashmere hops.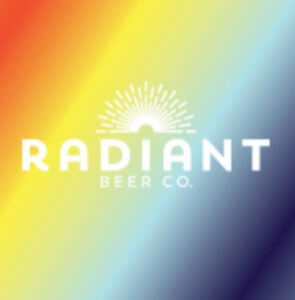 I Say Whip It
Fruited Tart Ale
I Say Whip It, our newest kettle soured ale, is brewed with a literal ton of juicy pineapple and sweet vanilla.... TRY TO DETECT IT! It's not too late.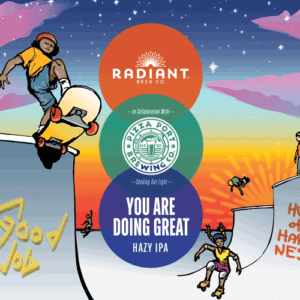 You Are Doing Great
Hazy IPA
Do you need a little reminder? A personal pep talk? Hey! You! You're doing great! And you friends here at Radiant won't let you forget it! This is one half of our very first dual collab brew, ever. We're positively pumped to partner with our Pizza Port pals on two IPAs - one hazy from us, one clear from them, both for you. For our hazy project, we wanted to do something a little different, and use "old school" hops in a new school style. The malt bill uses Admiral malt, Maris Otter, and oats, while the hop bill is Simcoe-heavy with Amarillo, Cascade, Chinook and Ahtanum hops. You'll notice those timeless flavors of citrus, grass, pine, and green melon, wrapped in a medium bitter, juicy softness, ripe with peach, green papaya, mango, and lychee. This is a fun exploration straddling the best of the hop worlds, and our Pizza Port pals were the perfect peeps to explore it with. Great job!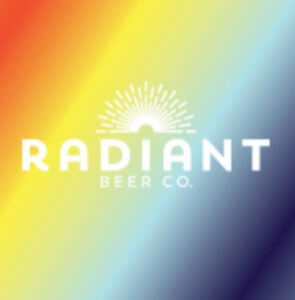 I'd Recommend It – Nitro
London Style Porter
A good publican is always ready with suggestions for those patrons who can't quite decide which tipple to tackle. Our rich, malty porter is worthy of recommendation in any proper London pub. A dry, delightfully roasty beer with notes of pumpernickel, leather, chocolate, and a hint of dried berries, we're offering both pub-style nitro and standard carbonated versions. Also keep an eye out for a very special cask tapping!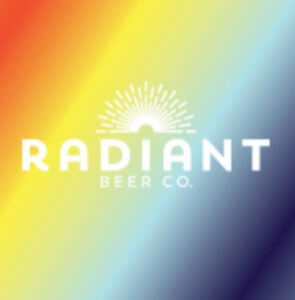 I'd Recommend It
London Style Porter
A good publican is always ready with suggestions for those patrons who can't quite decide which tipple to tackle. Our rich, malty porter is worthy of recommendation in any proper London pub. A dry, delightfully roasty beer with notes of pumpernickel, leather, chocolate, and a hint of dried berries, we're offering both pub-style nitro and standard carbonated versions. Also keep an eye out for a very special cask tapping!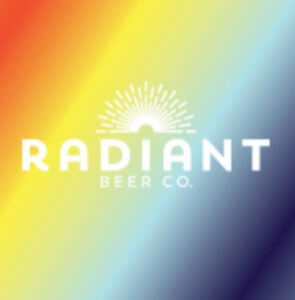 The Haselnüsse is Loose
Pastry Stout
A dark and decadent chocolate, hazelnut sundae inspired Pastry Stout with hazelnuts, maple syrup, Tanzanian cacao nibs & Madagascar vanilla bean.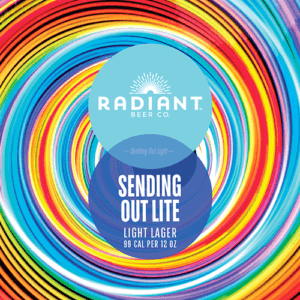 Sending Out Lite
Light Lager
Keep it light - and under 100 calories per 12 oz serving - with our classic, American light lager that's low in calories, high in refreshment, and clean in flavor. Lively carbonation with very subtle undertones of toasty malt and rice cracker, fragrant lemony hops, and sparkling minerality make Sending Out Lite our go to option for easy refreshment.
Universal Handshake
Hazy Triple IPA
All the tropical flaves are colliding in this big, hazy, ridiculously juicy triple. What looks like fresh-squeezed pineapple juice is actually a 10% ABV medley of flavors derived from Citra, Strata, and Cashmere hops. Get swept away by passion fruit, mango, ripe melon, strawberry, and a whiff of citrus blossom, with luscious flavors of mango, pineapple, and Starburst candy in this decadent, silky creation.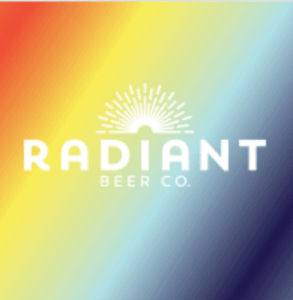 Tropical Skies
Smoothie-Style Fruited Tart Ale
If you liked our last tart ale, you're going to LOVE this! We took over 1,000lbs of fruit, mixed in a boat load of marshmallow and created this magnificent ambrosia-ish inspired smoothie style tart ale. Take a sip and be instantly transported to a lush tropical island. We can almost hear the steel drum playing!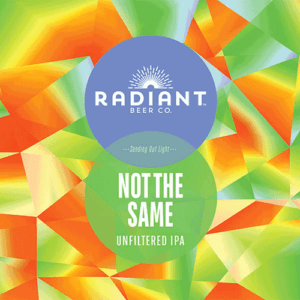 Not The Same
Unfiltered Austin-Style IPA
It's not the same as a hazy IPA, and it's not the same as a crisp & clear IPA. This unclear beer appears hazelike, but drinks more like a modern IPA. It's a bit drier, with higher bitterness than a juicy hazebomb, and showcases notes of citrus, papaya, fresh cut grass, berry gummies, and white flowers. You might have enjoyed beers like this if you've visited a certain location in Texas, where they also dabble in these crossover areas within IPA brewing. Whatever you want to call it, this unfiltered style presents some of our favorite characteristics from across the IPA spectrum, using Kölsch yeast, and Simcoe, Galaxy, Citra, HBC630 Cryo, and Azacca hops.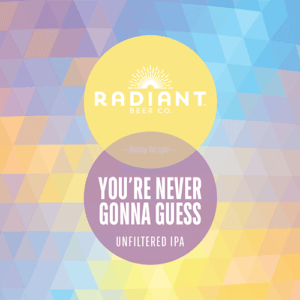 You're Never Gonna Guess
Unfiltered SoMa-Style IPA
A showcase of big dry-hop aroma. A nicely rounded out mouthfeel. A slight haze, with low bitterness, but assertive hop flavor. Plenty of crisp fruit notes, yet dry like a west coast IPA ... what? This unusual, hoppy release is a nod to a few particular NorCal breweries we admire. It's brewed with the grain bill of our hazy IPAs, but fermented with our standard California ale yeast and left unfiltered. Simcoe and Riwaka hops conjure notes of white grapefruit, tangelo, white strawberry, kaffir lime, fresh cut grass, starfruit, and honeydew in this subtly hazy, hoppy, wonder.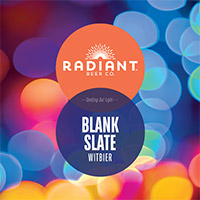 Blank Slate
Witbier
We're appealing to all the senses with this wheat beer brewed with citrus peels and our super special spice blend that incorporates coriander, chamomile, and other secrets for a subtle twist on an approachable style.