What's On Tap at Radiant Beer Co.
We look forward to your visit! Our taplist is updated regularly, though offerings can change quickly and without notice. Please call us before visiting if you're looking for something specific: (714) 661-5790
We offer crowlers of some selections, but cannot crowler nitro beers, slushies, or soft serves. Check our SHOP page for beers available in cans to go.
🍦🍧  Learn more about our frozen beer slushies & soft serve beer.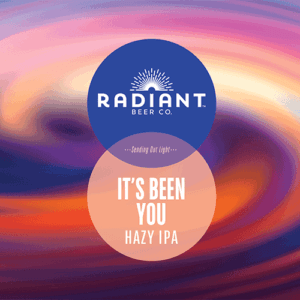 It's Been You
Hazy IPA
ou can probably find just about every type of melon in this hazy IPA gushing with all sorts of soft fruit notes. Heavy cantaloupe, jackfruit, and nectarine swirl through the glowing, golden yellow, Galaxy hop-heavy hazy, as ever subtle notes of citrus, stone fruit, a little dankness and diesel flow through its finish. In addition to Galaxy hops, this beer uses Citra, Mosaic, and El Dorado for its melon-y melody.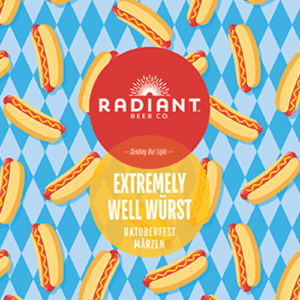 Extremely Well Wurst
Marzen Lager
How well versed are you in German beers? Über well versed? Extremely well wurst? Educate yourself a little more with this copper hued, malty treasure of a Märzen. This traditional style drinks extremely clean, with rich melanoidins, notes of pumpernickel bread, and carefully balanced noble hop spice and bitterness. It's the perfectly toasty way to toast the Radiant Oktoberfest weekend.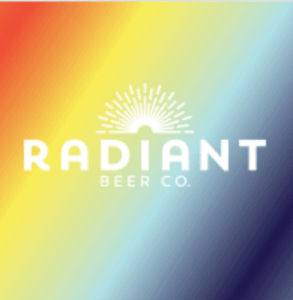 I'm Not Letting Sousaphone Die, You Guys
Festbier Wiesn Lager
Unlike a sousaphone, this delicate, crystal clear, golden yellow delight is malt-forward with perfectly balanced bitterness. It's the paler colored lager traditionally enjoyed at the Oktoberfest biergarten, hence the style name Wiesn loosely meaning "meadow". It's no surprise this beer is enjoyed in an alpine meadow - elderflower, citrus blossom, and herbal hops will fit your fancy, while notes of freshly baked bread, rustic hay, and a crackery finish slap back from your Oktoberfest boot glass.
NEW! DRAFT ONLY! CROWLERS!
5.8%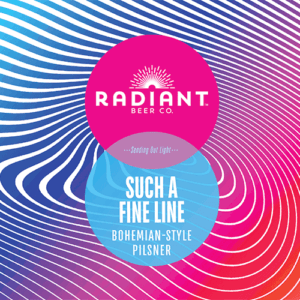 Such A Fine Line
Bohemian Style Pilsner
Our first Bohemian-style pilsner walks a fine line between malty and hoppy, with refined herbal & spicy notes from Saaz hops, and biscuity & doughy notes from floor-malted Czech Pils malt. In keeping with the Czech style, this pils has a rounder mouthfeel compared to our more hop focused and lean German-style pilsners, while still shining brightly with clean fermentation, high carbonation, and crispy crushability.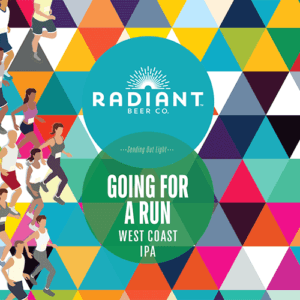 Going For a Run
West Coast IPA
The next time you're Going For A Run, we've got the post-race refreshment ready. This clean, crisp, clear beer is a bit of a motivational push for grabbing an extra mile (or two, or half …). Hopped with Citra, Strata, and Idaho 7, this west coast IPA showcases low bitterness with intense aromatics of peach ring gummies, citrus akin to Lemonheads, a hint of watermelon and a touch of dankness. A first sip opens up to juicy and fleshy stone fruit notes, and even more citrus with a pleasantly dank finish line.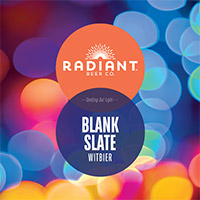 Blank Slate
Witbier
We're appealing to all the senses with this wheat beer brewed with citrus peels and our super special spice blend that incorporates coriander, chamomile, and other secrets for a subtle twist on an approachable style.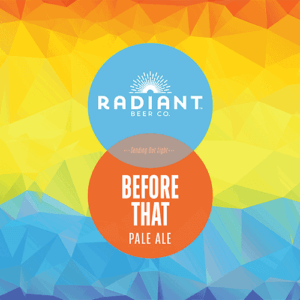 Before That
Pale Ale
Oh yes, it's back to the future with a refreshingly modern take on a classic style. Find bright flavors of lime zest, lemon verbena, and star fruit alongside gentler notes of apricot, lychee and white flowers. Before That drinks pleasantly light and crisp, with low bitterness. Citra, Simcoe, Strata, and Motueka make our first pale ale a new crushable favorite.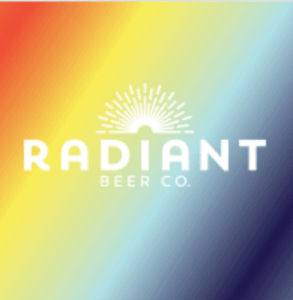 Tropical Skies
Smoothie Style Tart Ale
If you liked our last tart ale, you're going to LOVE this! We took over 1,000lbs of fruit, mixed in a boat load of marshmallow and created this magnificent ambrosia-ish inspired smoothie style tart ale. Take a sip and be instantly transported to a lush tropical island. We can almost hear the steel drum playing!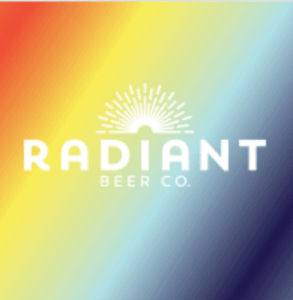 Baby Flamingo
Fruited Tart Ale
Did you know that a baby flamingo is called a flaminglet?! We didn't, but now we do and we're even more obsessed with our newest fruited tart ale featuring a boat load of hibiscus, passionfruit and dragon fruit. Ooh and aww at the bright pink hue and just imagine how cute it would be if flamingos could drink this too. It's our ideal summer sipper, with the quenching tartness we love in agua de jamaica, balanced delicately with soft tropical fruits.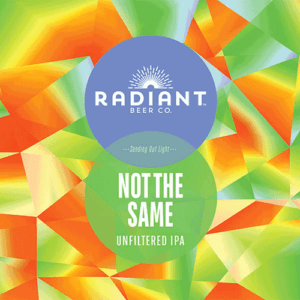 Not The Same
Unfiltered IPA
It's not the same as a hazy IPA, and it's not the same as a crisp & clear IPA. This unclear beer appears hazelike, but drinks more like a modern IPA. It's a bit drier, with higher bitterness than a juicy hazebomb, and showcases notes of citrus, papaya, fresh cut grass, berry gummies, and white flowers. You might have enjoyed beers like this if you've visited a certain location in Texas, where they also dabble in these crossover areas within IPA brewing. Whatever you want to call it, this unfiltered style presents some of our favorite characteristics from across the IPA spectrum, using Kölsch yeast, and Simcoe, Galaxy, Citra, HBC630 Cryo, and Azacca hops.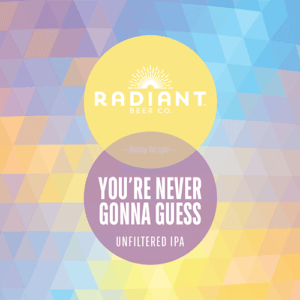 You're Never Gonna Guess
Unfiltered IPA
A showcase of big dry-hop aroma. A nicely rounded out mouthfeel. A slight haze, with low bitterness, but assertive hop flavor. Plenty of crisp fruit notes, yet dry like a west coast IPA ... what? This unusual, hoppy release is a nod to a few particular NorCal breweries we admire. It's brewed with the grain bill of our hazy IPAs, but fermented with our standard California ale yeast and left unfiltered. Simcoe and Riwaka hops conjure notes of white grapefruit, tangelo, white strawberry, kaffir lime, fresh cut grass, starfruit, and honeydew in this subtly hazy, hoppy, wonder.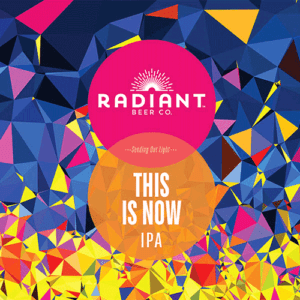 This Is Now
Modern IPA
A crisp, bright IPA that's low on the bitterness, while showcasing a big medley of fruit-forward notes derived from Citra, Simcoe and HBC586 hops. Hop Breeding Company's experimental hop HBC586 is known for contributing mango, guava, lychee, citrus, with slight herbal notes. You'll find those flavor notes along with melon, jackfruit, kiwi, orange sherbet in this refreshing, modern IPA.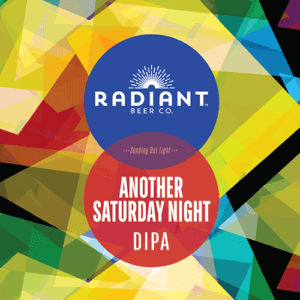 Another Saturday Night
Double IPA
Another Saturday Night, and you've got this tropical and citrus-forward, low bitterness double IPA loaded with punchy hop notes of mango sorbet, Maui punch pixie sticks, fruit sherbet, pineapple, and peach gummy candy. In an awesome way, it's balanced with notes of ruby red grapefruit, a hint of pine, and a dry finish with well-hidden alcohol presence.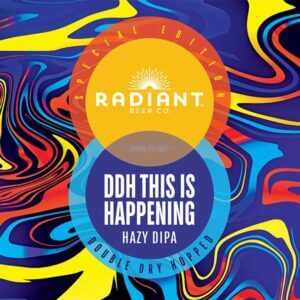 DDH This is Happening
Double Dry Hopped Hazy DIPA
This lush, pillowy happening in your glass starts with huge strawberry creamsicle aromatics, then ripe mango, papaya, some tangerine sorbet, and a little ganja. The flavor is bright and tropical, with even more strawberry and papaya, a cantaloupe-forward finish, and a hint of lemon grass. This special edition is double dry hopped with Mosaic, Strata, and Amarillo hops, to juice even more luscious flavor out of this hazy double.