What's On Tap at Radiant Beer Co.
We look forward to your visit! Our taplist is updated regularly, though offerings can change quickly and without notice. Please call us before visiting if you're looking for something specific: (714) 661-5790
We offer crowlers of some selections, but cannot crowler nitro beers, slushies, or soft serves. Check our SHOP page for beers available in cans to go.
🍦🍧  Learn more about our frozen beer slushies & soft serve beer.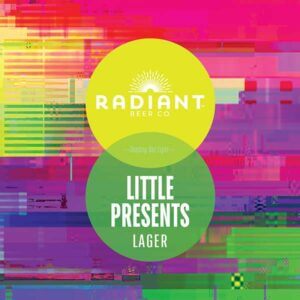 Little Presents
American Lager
Treat yourself to an incredibly crisp & clean lager with subtle notes of crackery aroma, and hints of spicy, citrusy hops. Highly carbonated, and brewed with a touch of rice, this effervescent refresher has a light body with bright flavor.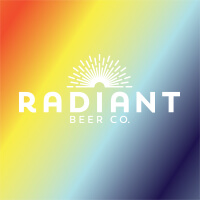 No Place I'd Rather Be
POG Inspired Sour Ale
Oh, smoothie beers.... when we're with you, there's no place we'd rather be; we hope you feel the same about our latest fruited sour ale. With summer right around the corner, we felt compelled to overload a fermentor with Passionfruit, Orange, Guava, and Tangerine to deliver this blender-breaking fruit-filled delight - straight from the Tropics of Radiant, just for you.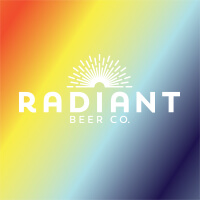 Absolutely Fabulous on Nitro
British Style Golden Bitter, on Nitro
Absolutely Fabulous is a British Style Golden Bitter that's easy to sip on during a sunny patio session. Golden Promise heritage malt and a little wheat get lightly hopped with Citra and Motueka, forming an utterly delightful bright ale to usher in the warmer months ahead.⁠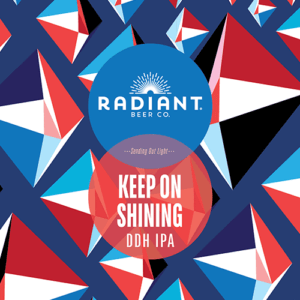 Keep On Shining
Double-Dry Hopped IPA
The tropical qualities of hops are made to shine as brightly as possible in this double dry hopped IPA made with Citra, Strata, Amarillo, and Cashmere hops. Its aroma is bedazzled with notes of tropical fruit, citrus, pineapple, lime, guava, orange zest, and peach gummy rings. Low bitterness takes a backseat to high beams of guava, pineapple, tangelo, and citrus flavors as you sip on this dry and hoppy ray of light.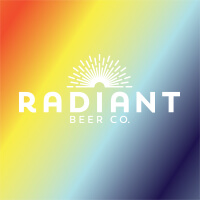 Smoothie Sailing
Tropical Smoothie Seltzer
Hey there! Dr. Radiant here, with a friendly reminder to eat (or drink) your daily serving of tropical fruit. Smoothie Sailing, our latest smoothie hard seltzer, is a liquid party wave of White Guava & Alphonso Mango, with a touch of Banana. This 6.3% ABV delight pairs well with fun in the sun, and is only available on draft - while supplies last.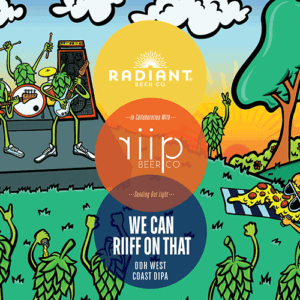 We Can Riiff On That
Double Dry-Hopped West Coast DIPA
Turn it up, drop some bars, and slappa the bass with this euphonious collaborative project between two west coast besties. Radiant & Riip love making award winning, hoppy hits, so we came together to pump up the hops as much as possible in a double dry hopped double IPA made with Simcoe, Motueka, Mosaic, and Columbus Cryo. The set opens with heavy hops of equal parts tropical fruit and dankness. The flavor and aroma blast papaya, citrus, tangerine, guava, melon and ganja, with medium bitterness that's perfectly in tune with its balanced bitterness and fruity hop character.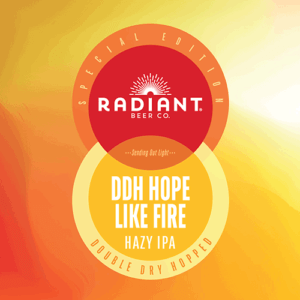 DDH Hope Like Fire
Double Dry-Hopped Hazy IPA
One of our earliest hazy IPA releases, Hope Like Fire is back by popular demand, and with a little something extra: double dry hopping. Experience a rush of stone fruit character and a blaze of tropical juiciness in this smooth, full-bodied showcase of Citra and Nelson hops. Melon and peachy gummies dance with mango and guava, while notes of starfruit, strawberry, and tangerine flicker about. You will love the way that it glows when you find it.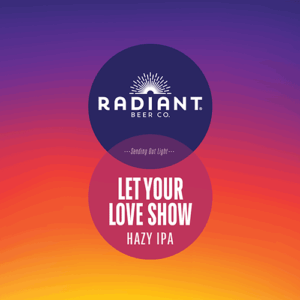 Let Your Love Show
Hazy IPA
Open your heart to a new hazy experience that embraces fresh vernal qualities and stonefruit characteristics. Pale yellow haze gushes with aromas of guava pastry, white peach & nectarine, tangerine, and a light floral quality followed by peach, guava, melon, and grassy tones hugging your palate. Equal parts Citra and Mosaic hopping are made complete with accents of Strata and Motueka. A dry finish and low bitterness mean there is even more to love on each sip.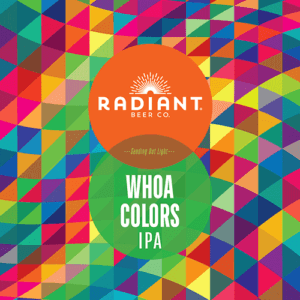 Whoa Colors
Modern IPA
Taste the rainbow of flavors derived from Simcoe, Mosaic, and Citra hops in this aromatic, dry, and ever so bright IPA. Mounds of melon character come through in the aroma as cantaloupe and soft fruits like papaya, peach, and kiwi meld with tangerine and white strawberry. These qualities follow through as each easy sip drenches your palate in its full spectrum of flavors.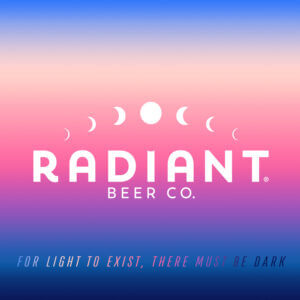 Everything In Moderation
Bourbon BA Pastry Stout
For light to exist, there must be dark....
Back in December 2020, just before opening our doors, we brewed a few batches of a huge imperial stout. This beer was gently laid to rest in 17-year-old Wild Turkey Master's Keep barrels for a sixteen month uninterrupted slumber, only to be conditioned to perfection on raw & house-toasted coconut, and two of our favorite vanilla varieties: Tahitian & Papua New Guinea.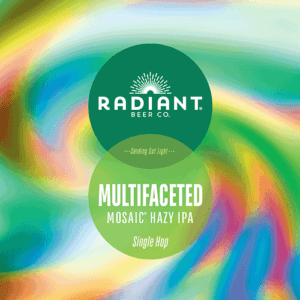 Multifaceted
Mosaic Hazy IPA
This single hop hazy celebrates the tenth anniversary of Mosaic® HBC 369 and its wide array of aromas and flavors. Take delight in its multifaceted expression of pineapple, guava, pine, papaya, and blueberry in the aroma as the flavors of tangelo and orange starburst join the party on your palate. Cheers to Mosaic for being a favorite hop since 2012!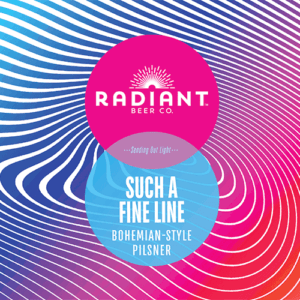 Such A Fine Line
Bohemian Style Pilsner
Our first Bohemian-style pilsner walks a fine line between malty and hoppy, with refined herbal & spicy notes from Saaz hops, and biscuity & doughy notes from floor-malted Czech Pils malt. In keeping with the Czech style, this pils has a rounder mouthfeel compared to our more hop focused and lean German-style pilsners, while still shining brightly with clean fermentation, high carbonation, and crispy crushability.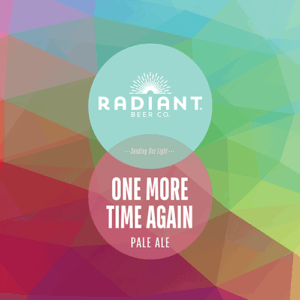 One More Time Again
Pale Ale
This hop forward pale balances pineapple, mango and tangerine with peach and the slightest hint of pine and green citrus. It's crushable and dry, with a mild bitterness and plenty of hop flavor, making it an easy drinker that you'll enjoy one more time again and again.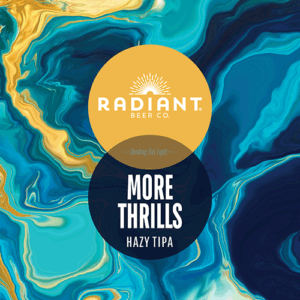 More Thrills
Hazy TIPA
This behemoth of a beer drips with tropical flavors and sweet fruit nectar. Its thick, orange juice-like appearance has aromas of tropical fruit, peach sorbet, and calamansi citrus. Exhilaratingly juicy flavors of guava, mango, papaya are derived from Mosaic, Citra, and Nelson hops, with a subtle warmth on the finish from its 10.4% ABV.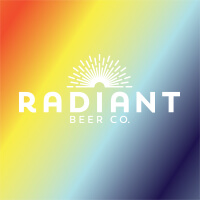 Absolutely Fabulous
British Style Golden Bitter
Absolutely Fabulous is a British Style Golden Bitter that's easy to sip on during a sunny patio session. Golden Promise heritage malt and a little wheat get lightly hopped with Citra and Motueka, forming an utterly delightful bright ale to usher in the warmer months ahead.⁠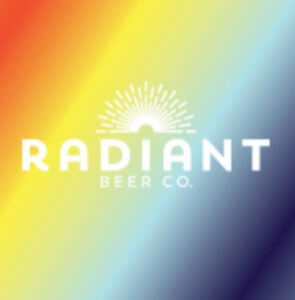 Like Summer Already
Peach Pie Inspired Seltzer
Like Summer Already Peach Pie Smoothie-style Seltzer starts with a refreshing seltzer base that we dosed with an insane amount of peach, apricot, graham cracker, cinnamon and vanilla. This heavily fruited pie-inspired treat is 7.1% ABV and only available on draft, while supplies last.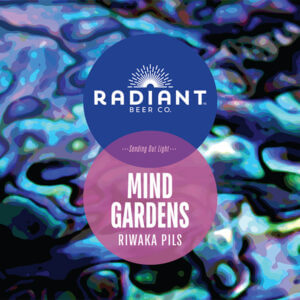 Mind Gardens
Riwaka Pils
Let your mind wander into a garden of flavors in a lager unlike any other we've made before. This crisp, hoppy pilsner is made with Riwaka hops, a newly exported breed from Clayton Farms in lovely New Zealand. The flavor contributions from this hop are reminiscent of those found in white wines hailing from the same region - ranging from pineapple, kaffir lime leaf, peach and Gewürztraminer grapes, to floral and peppery with a crisp minerality. Though brimming with complexity, its ultra clean fermentation and mild bready pilsner malt make it easy to drink, and a unique pilsner to enjoy in contrast to the European-influenced releases we've brewed thus far.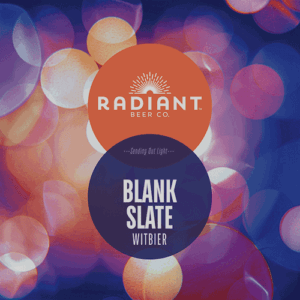 Blank Slate
Witbier
We're appealing to all the senses with a wheat beer brewed with citrus peels and our super special spice blend that incorporates coriander, chamomile, thyme, caraway, and other secrets, for a subtle twist on a beloved Belgian style. Bitter orange peel and California grapefruit add a brightness to this smooth bodied, extremely food-friendly brew. You'll notice aromas of fresh-baked bread, citrus, and the tantalizing herbaceousness of a summary amaro in the background of our effervescent and massively refreshing wit.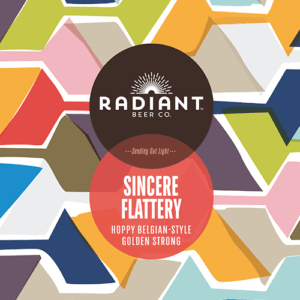 Sincere Flattery
Hoppy Belgian Style Golden Strong Ale
Belgian beers are often a delicious gateway to trying more esoteric craft beers, thanks to their big flavor and flavorful fermentation. We've combined what we love about hoppy beers with our appreciation for Belgians to create a fruit forward, lively golden strong ale, with mild notes of citrus sorbet, tropical fruit, pear, Juicy Fruit bubblegum, black pepper, and a touch of warmth in its well-hidden alcohol. This beer finishes dry and demonstrates an ideal balance of Citra, Mosaic, and Loral hop brightness with Belgian fermentation character.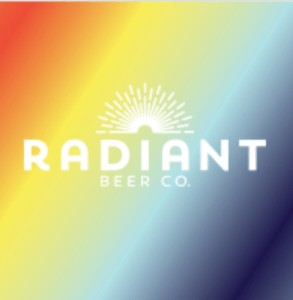 Pink Is Up!
Belgian Style Spritzer
Allow us to introduce you to our first Belgian-style beer spritzer, just in time for some warm weather and blue skies! We took 5 giant boxes of grapefruit, zested the heck out of them, then added a bunch of hibiscus and made sure the bubble to beer ratio was just right and voila! A perfectly pink, slightly tart, Belgian spritzer. It's a great warm weather sipper that strikes a tasty balance between Belgy elegance and gently tart fruitiness.⁠ So sit back, relax, and enjoy!
* This beer pairs perfectly with sunny skies and patios vibes.. trust us! *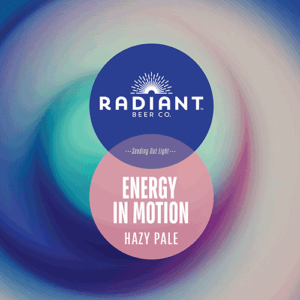 Energy In Motion
Hazy Pale Ale
Get lost in our award-winning haze with this deep peach colored, opaquely hazy nectar bomb. This is an easy-drinking treat, with nowhere to hide its exceptionally fruity flavor melange, created with the use of Citra, Strata, and Cashmere hops. It's dripping with intense tropical and juicy notes of melon, papaya, mango, pineapple, strawberry candy, tangerine, melon, and guava.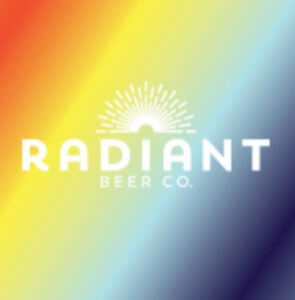 Nothing Compares
Milk Stout
This British inspired Milk Stout pours near black with brown highlights and tops itself off with a frothy off-white head of foam. Totally malt forward with notes of toasted bread, graham cracker, and breakfast cereal, followed by bakers chocolate, light espresso, and slightly over-toasted marshmallow clouds. This beautiful little milk stout is the perfect treat to take you from cold winter days to sunny spring skies!